Geschichte des Zufalls no. 15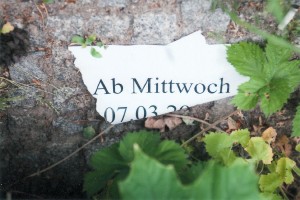 On 17 June 2012, I visited the Mauerpark flea market with friend and poet D— S—. The market was bursting at the seams with the detritus of pop culture; archives of tape and vinyl; retro furniture and avant-garde t-shirts; remnants of the former socialist state and occasional contraband from darker times; out-of-date art books and mass market magazines bleaching in the sun. A carnival of objects to anchor social ground within the shadow of the former Wall.
At the end of a long alley of stands, objects, and crowds—or at the end of a confusing story that was just about to arrive at its point—appeared a stall selling what look like small cardboard boxes, each with a stenciled number cut out on the top that let optical green paper show through, under the banner "Geschichten des Zufalls." In the center of the table stood a gumball machine, containing wooden balls with the same optical green numbers. We were invited to purchase one of the boxes as a "chance object," and to participate in a conceptual project in which we would inform the sellers/organizers of any coincidences that had occurred after its purchase. We could pay whatever price we felt appropriate for an opportunity to encounter chance in this way.