ASAP 6 (Association for the Study
     of the Arts of the Present)
Shanghai Jiao Tong University
27–29 June 2014 [here]
Regions of Avant-Garde Practice: Asia
Jacob Edmond, "Critical Translation"
Earl Jackson, Jr., "'Asia' from Variable Proximities"
Barrett Watten, "Negative Globality in the Chinese
Avant-Garde"
11:30 AM–1:00 PM, Friday, 27 June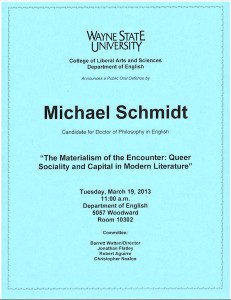 Michael Schmidt's dissertation, "The Materialism of the Encounter: Queer Sociality and Capital in Modern Literature," is scheduled for its defense in the Wayne State Department of English at 11 AM, Tuesday, March 19, 10302 5057 Woodward Avenue, Detroit. This a public defense. After its conclusion, I will post the abstract here.
[for Carla Harryman]
The following chronology documents two weeks of intensive travels in the zone of the aesthetic, under the aspect of the political, in Germany. I accompanied Carla Harryman, who had been invited to present a lecture in the closing week of documenta and was a credentialed participant for the preview, for the first week, and then continued on alone through Munich, Nuremberg, Jena, Leipzig, to Berlin. Annotations will be added to the entries, as time permits.
Monday, June 4
JFK > FRA.
Tuesday, June 5
"Auf dem Goetheweg zum Brocken." Nationalpark Harz, Torfhaus, Lower Saxony.
Grenzmuseum, Sorge, Lower Saxony.
Wednesday, June 6
Weltkulturerbe Rammelsberg, Museum und Besucherbergwerk, Goslar.
"Der Andere Blick: Alltagswelten von Martin Parr, Tim Wood, Antanas Sutkus." Mönchehaus Museum, Goslar.
documenta 13, Kassel. Preview.
Thursday, June 7
documenta 13, Kassel. Fridericianum.
"On the Kabul-Bamiyan Seminars and Exhibition." Conversation with Christine Christov-Bakargiev, Chus Martinez, and artists. Ständehaus.
"Absolute Contingency: The Political Work of WWI Popular Poetry"
Thursday, April 14, 3:00 PM
The Welcome Center Auditorium
Woodward & Warren Avenues, WSU
"Honor & Solidarity: Can the Legacy of the Abraham Lincoln Brigade Inspire the Contemporary University's Unions?"
Friday, April 15, 7:30 PM
The African-American Room, 91 Manoogian Hall
Warren Avenue & Anthony Wayne Drive, WSU
Flyer: click here
"Presentism and Periodization in Language Writing, Conceptual Art,
          and Conceptual Writing"
Panel on "Post-Presentism" with Jonathan Eburne
ASAP/Association for the Study of the Arts of the Present
23–24 October 2009, Crowne Plaza Hotel, Knoxville, TN
"The Expanded Object of the Poetic Field; or, What Is a Poet/Critic?"
Keynote address, Poetry and Public Language, University of Plymouth, U.K., March 2007; in Poetry and Public Language, ed. Tony Lopez and Anthony Caleshu (Exeter, U.K.: Shearsman Press, 2007). Publicity flyer/ordering information here; the essay can be accessed in pdf here.
In March 2007, Lyn Hejinian and I were invited by U.K. poet Tony Lopez to lecture at a poetics conference at the University of Plymouth (see links above). My talk addressed transformations in the nature of the poem as object, and employed in terms of the relation of poet and critic, using a series of works from my own oeuvre. The claim that one could speak as both poet and critic proved to be controversial in England, where distinct roles must be perserved as, respectively, object-producing and value-conferring. … More
"The House of Language: Laura (Riding) Jackson's Rational Meaning
          and the Truth of Experience"
10 AM–12 PM, Wednesday, November 18, 2009
Laura Riding Jackson House/Environmental Learning Center, Vero Beach, Fla.
Sponsored by Florida Atlantic University and the Laura (Riding) Jackson Foundation
On 18 November 2009, I lectured on Laura (Riding) Jackson's culminating work, Rational Meaning, which she wrote with Schuyler B. Jackson until his decease and then finished herself. … More
From its launch in January 2010, this site will continuously add new content: writings, events, critical and cultural theory, poetics, and links. The site architecture is built from motifs adapted from Herbert Bayer's 2,000,000 Mark note produced for the Weimar Republic state of Thuringia—a prescient synthesis of social modernity, modern art, and financial disaster. Many thanks to Asa Watten for his artistic and technical expertise in making this project possible!