Imagined Theatres:
Writing for a Theoretical Stage
Edinburgh International Book Festival
17 August 2017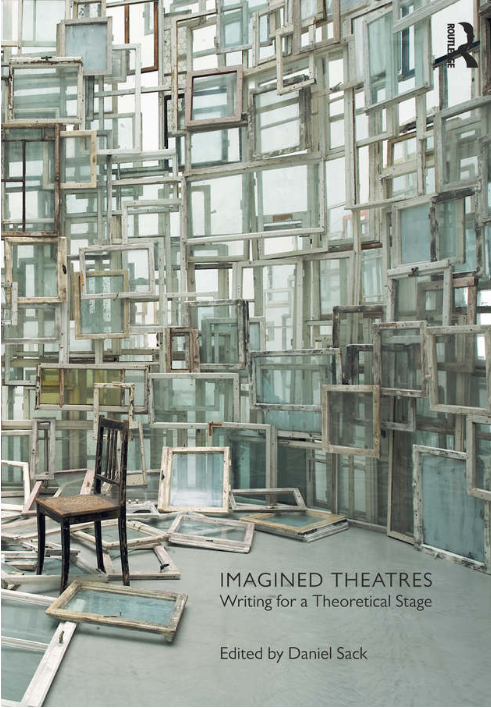 Daniel Sack
Dominika Laster
Michael McMillan
Carla Harryman
Jen Harvie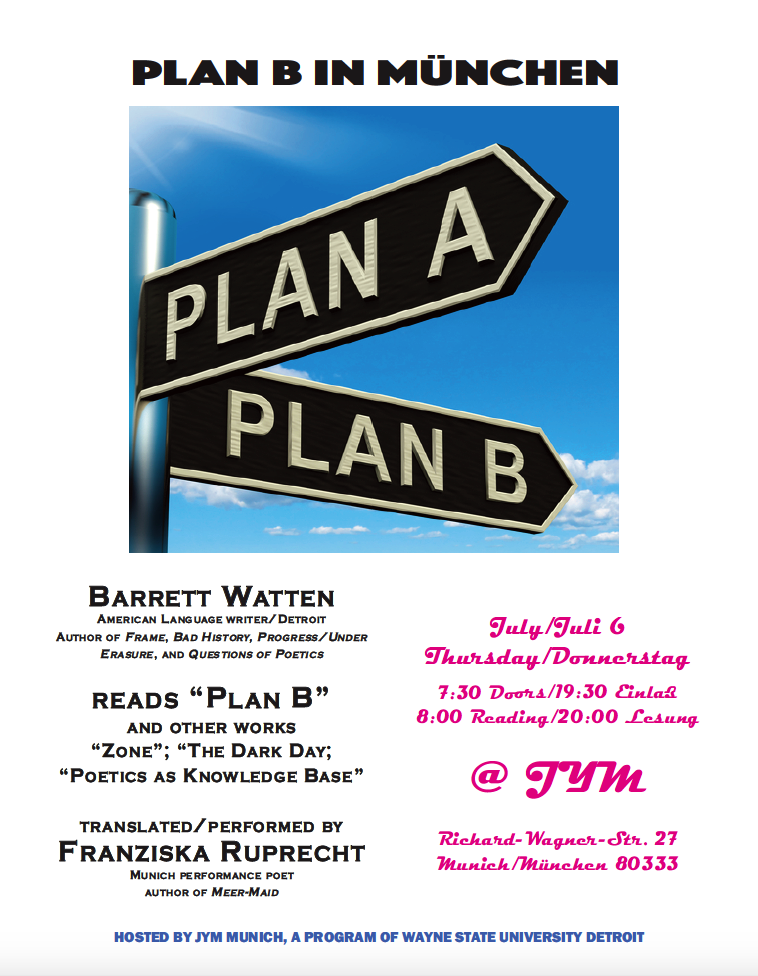 Barrett Watten will read "Plan B," a poem written in the aftermath of our national catastrophe, over four days in which the intensity of distorted discourse, media frenzy, and psychological projection fused in a mass of contradictions so real one could simply reach out and grab them to make a poem. The resulting work stands as a kind of "knowledge base" for the symbolic detritus of the election and the state of political crisis it produced. The keyword Gleichschaltung is drawn from the German experience of 1933 and is used as a "discrepant analogy" to the imperative not to "normalize" the result of the election—an imperative that continues for many. Both terms appear at regular intervals through the poem. Also evoked is the wreck of the Edmund Fitzgerald—a 1975 maritime disaster on the Great Lakes (and ballad by Gordon Lightfoot) that is iconic for residents of Michigan, for whom it represents the destruction of the state as well as the wreck itself. One might immediately compare this reference to Gerard Manley Hopkins's The Wreck of the Deutschland to achieve the kinds of discrepant analogy the poem explores. For the reading in Munich, performance poet Franziska Ruprecht has translated "Plan B" into German, which she will perform. The reading will also present other texts evoking poetry as a "knowledge base," on the one hand, and as record of catastrophe, on the other.
See above for details; click on image to download flyer. 
Association for the Study
of Literature and the Environment
Wayne State University
20–24 June 2016
Offsite reading @ N-Space
23 June 2016
Linda Russo
Brenda Iijima
Megan Kaminski
Marthe Reed
Joshua Schuster
Adam Dickinson
Lynn Keller
Evelyn Reilly
Angela Hume
cris cheek
Tyrone Williams
… More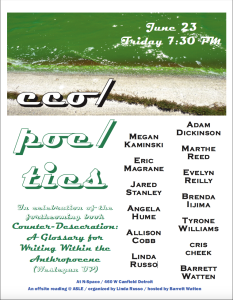 eco/poe/tics
a reading in anticipation of
Counter-Desecration: A Glossary
for Writing Within the Anthropocene
organized by Linda Russo
hosted by Barrett Watten
@ N-Space
460 W. Canfield, Detroit
7:30 Friday June 23
Poet Sandra Simonds kicks off the Open Field Reading Series at Wayne State University, Monday, January 30, 4 PM, in the Department of English Conference Room, 10302 5057 Woodward Avenue, Detroit. Tuesday, January 31, 7:30, she will lead a discussion on "Antifa Sorcery / Mongrel Dialectics," at N-Space in the Canfield Lofts, 460 W. Canfield, Detroit. For flyer, click below: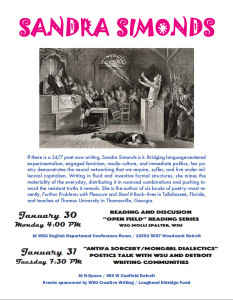 If there is a 24/7 poet now writing, Sandra Simonds is it. Bridging language-centered experimentalism, engaged feminism, media culture, and immediate politics, her poetry demonstrates the neural networking that we require, suffer, and live under millennial capitalism. Writing in fluid and inventive formal structures, she mines the materiality of the everyday, distributing it in nuanced combinations and pushing toward the resistant truths it reveals.
Chicago, 18–20 November 2016
Friday, November 18
Jennifer Rupert
Chris Glomski
Saturday, November 19
40 Years, part 2: Gender. Race. Identity @ Rhona Hoffman
Courttney Cooper @ Western Exhibitions
Four Large Drawings @ Western Exhibitions
Ania Jaworska @ VOL
Sara Greenberger Rafferty @ Document
McArthur Binion @ Kavi Gupta
Lisa Nankivil @ McCormick Gallery
Diana Guerrero-Maciá @ Carrie Secrist
Anne Lindberg @ Carrie Secrist
Justin John Greene @ Andrew Rafacz
Theaster Gates @ Richard Gray
Museum of Contemporary Art, Chicago … More
Friday, September 30
Literary salon @ Carla Harryman
discussing current book projects
with Christine Neufeld, English, EMU
Matt Kirkpatrick
Susan McCarty
Rob Halpern
Lee Azus
Christine Hume
Melissa Jones
Craig Dionne
Charles Cunningham
Nataša Kovacevic
Megan Stockton
Caitlin Browne
(after on Kawara)
The Other Fabulous Reading Series
The Long Haul Infoshop
Berkeley, California
2 January 2015; info here
with Brian Ang, Patricia Murphy, and Chelsea Tadeyeske
"The New 1–10"
Introduction, Questions of Poetics (MS)
Zone LI (in Armed Cell 7) + The Grand Piano 10, 000–00
Zone LII + The Grand Piano 9, 000–00
Zone LII + The Grand Piano 8, 000–00
Zone LIII + The Grand Piano 7, 000–00
Zone LIV + The Grand Piano 6, 000–00
Zone LV + The Grand Piano 5, 000–00
Zone LVI + The Grand Piano 4, 000–00
Zone LVII + The Grand Piano 3, 000–00
Zone LVIII + The Grand Piano 2, 000–00
Zone LIX  + The Grand Piano 1, 000–00
(Thanks to Brian Ang for his reading of "Barrett Watten, 1999")