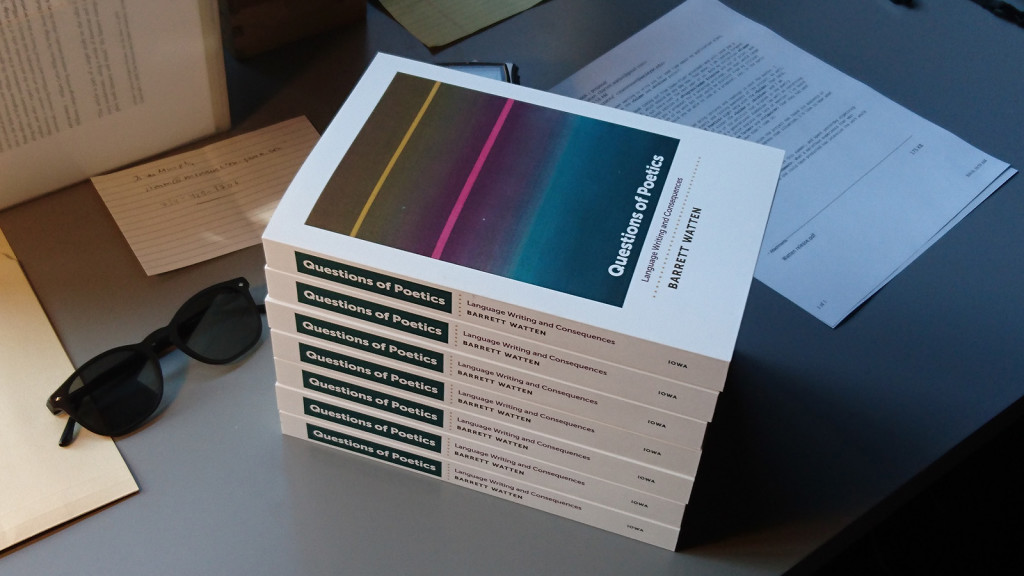 Reason 1: Language writing should not be understood in merely formalist terms.
Reason 2: It is a consequence of the cultural logic of the period(s) in which it was written and has its influence.
Reason 3: But, we must ask, what is a cultural logic, and how many of them are there to name?
Reason 4: If Enlightenment is a cultural logic, not just an abstract universal, the poetics of this situation are yet to be found out.
Reason 5: It is not exaggerating to claim these debates have scarcely been engaged, and will continue past publication of this volume.
Reason 6: The relation of Language writing to identity is a major motivation, as is the question of free speech as liberationist goal. … More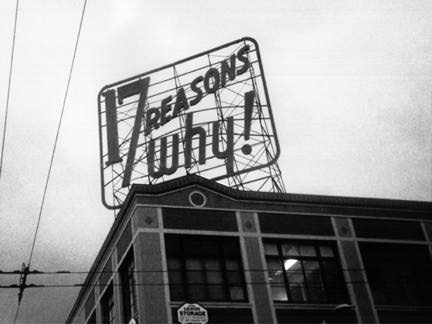 17 Reasons Why! 
"17 Reasons Why!" is a key site in the cognitive map of San Francisco during the period in which Language writing emerged, the 1970s. The cryptic formula, for which no adequate explanation has been given, overlooked the Mission District at the intersection of 17th and Mission—and yet also seemed hardly to be there. Its address was always already iterative and non sequitur, always a prompt for questioning. I left the Bay Area before it came down in 2000, but it has a solid place in the firmament of urban legend, as in this article, from which we learn: "The 17 did refer to the fact the store stood on the corner of 17th Street. But what were the reasons? 'People would ask what the 17 reasons were, and we would guff it off. There were no 17 reasons,' [the former owner's son] said."
Announcing publication of
Questions of Poetics: Language Writing
and Consequences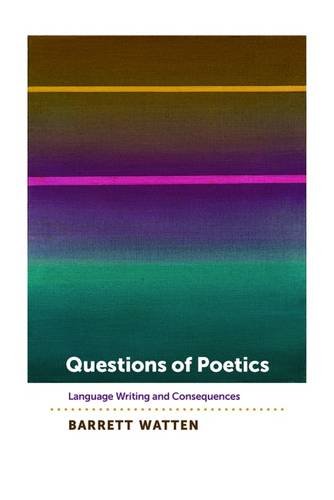 "Questions of Poetics is full-on Watten, a book with sharp edges, relentless intelligence, and an unwavering conviction that the arts have serious work to do."
—Peter Nicholls, author, George Oppen and the Fate of Modernism
"Questions of Poetics represents a major statement by one of the highest profile poet-critics of the day. Its arguments concerning genre, form, particularity, and negativity represent a solid, easily grasped, portable way of thinking about the ongoingness of the avant-garde, its continual diversification and reinvention. Moreover, Watten offers a persuasive reappraisal of Language writing and its place in American literary history."
—Brian Reed, author, Nobody's Business: TwentyFirst Century Avant-Garde Poetics
Official release date: September 1, 2016. For the University of Iowa Press flyer, see here; for ordering options, see here.
DREAM
Broken headline column:
"YOU ARE GO
IN TO END"
Allen Ginsberg dives through the space hatch.
I watch him from the rim, hear his voice
trail a statement "MAN ISSSSSSSSSS . . . . . . . . "
as he disappears into dot-hood.
The Poets—Anne Waldman, me, "all The Poets"—float
in interstellar space—a substance I
can touch, a fine sheen. & then I'm up against the sun,
its soft orange neon glow. "THE SUN," I say, "IS BIG!"
Pause, a chair sails silent past me & into solar radiance.
"CHAIR INTO SUN!" I remark (a parody of big
poetical remark).
Then I am back on Earth,
speed-skating on the "Power-Cones."
—from This 8 (1977); see also Portrait and Dream, p. 154
I had come to New York with a purpose—to visit Ted Greenwald, whose health had been failing (see here), and to make contact with people and see art (see here). I was not expecting to see Bill, whom I knew had been living partly in New York but whom I had not seen for some time (not since we read at MOCAD in Detroit, an event so poorly framed and executed—not by Bill, of course, who sounded great—that I only remember it with displeasure). One of my contacts mentioned that Bill would be reading with Kyle Schlesinger at a gallery in Chelsea, and sent an email with time and place, to begin at 5:30. … More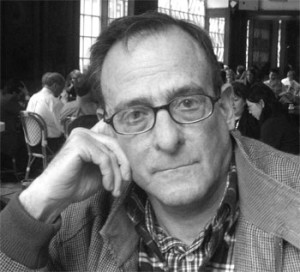 I was in New York for a purpose—for one thing, I had not been for a while and it was time to catch up. At a conference in Boston, I received a phone call from Kit Robinson, in the middle of a session on surrealism no less, that Ted Greenwald's health was failing. I made plans to visit as soon as the semester was over; a day was arranged, a plane flight, a hotel booking, and other appointments fell into place. I've outlined what I did over the four-day weekend here. The time was specified for 2 P.M. Ted was chipper over the phone: "I have an earlier appointment, but I can see you then." He books his time like a New Yorker, I noted; I don't, in some unstated way assuming every event is its own uniqueness, even if that has long since become unworkable as a way to manage time. (So it came to pass that I work the day shift on the assembly line of Modernity Inc., headquarters in Detroit. But what's the difference? Differing cultural styles of time management all depend on the same passage of time.) I was nervous about the event; he had not overprepared it. … More
Thursday, May 5
Michael Gottlieb
Luc Tuymans @ David Zwirner
Tracey Emin @ Lehman Maupin
The Tale of Tales, dir. Matteo Garone (IFC)
Friday, May 6
Michael Golston
Bruce Andrews
Unfinished @ Met Breuer
Andy Warhol, Electric Chairs @ Venus
Jean-Michel Basquiat, images and words @ t/k
David Hammons @ Mnuchin
Allen Jones @ Michael Werner
Anne Collier @ Anton Kern
Richard Serra @ Gagosian
Sigmar Polke @ David Zwirner
Mike Kelley @ Skarstedt
Jasper Johns @ Mathew Marks
Carlos Motta @ PPOW … More
The following is a collectively authored and lightly edited chronology of significant events and publications in poetry and poetics from 2010 to 2015. Submit 3–5 entries, including year and month, to barrett.watten@gmail.com for inclusion. The project is intended to sample an expansive account of poetic activity during this period, as an aid to memory, reflection, and action.
 2010
April   Alice Notley, Reason and Other Women (Chax Press)
Rae Armantrout wins the Pulitzer Prize for Poetry
June   Rethinking Poetics conference, Columbia University; organized by Bob Perelman and Michael Golsten
July   95 Cent Skool: Summer Seminar in Social Poetics, Oakland; organized by Joshua Clover and Juliana Spahr
October   Final volume of The Grand Piano: An Experiment in Collective Autobiography (Mode A/This Press)
Gail Scott, The Obituary (Nightboat); a novel close to poetry and the impact of First Nations genocide on urban psycho-geography
November   Ed Roberson, To See the Earth Before the End of the World (Wesleyan UP)
December   Kit Robinson, Determination (Cuneiform Press)
2011
August   Durruti Free Skool, sequel to the 95 Cent Skool, Berkeley
ARMED CELL 1, ed. Brian Ang, distributed at Durruti Free Skool
September   Start of Occupy movement, which would include significant participation and related publishing by poets
November   Performances of The Grand Piano at University of California Berkeley and California College of Arts, San Francisco (dates t/k)
2012
January   Death of Stacy Doris (January 31)
February   Franziska Ruprecht's Dichtwerkvariété events combine performed writing with American variety show style in Munich, Germany
April   Lyn Hejinian, The Book of a Thousand Eyes (Omnidawn)
May   Death of Leslie Scalapino (May 28)
September   Death of Arkadii Dragomoshchenko (September 12)
November   Amiri Baraka at the African-American Museum, Detroit (November 16)
2013
May   East Bay Poetry Summit
September   Carla Harryman, W/M (Split Level)
November   Ronald Johnson, Ark (Flood Editions)
2014
January   Death of Amiri Baraka (January 19)
March    Nathaniel Mackey, Outer Pradesh (Anomalous Press)
May   The Water Street Journal; an act of sublime and politically radical piracy published on May Day without a barcode and distributed free in Ypsilanti, MI
December   10th anniversary of Dos Madres Press, Heterotopia Book Store, Cincinnati (date t/k)
2015
January   Franziska Ruprecht, Meer-Maid (Wolfbach Verlag)
February   Tony Sanders (d. February 11) wins the Bernard F. Conners Prize
March   Kenneth Goldsmith performs Michael Brown's autopsy report at Brown University (date t/k)
June   Cancellation of Berkeley Poetry Conference after complaints over inclusion of Vanessa Place; the conference is restructured and renamed Crosstalk, Color, Composition: A Berkeley Poetry Conference
August   Death of Stephen Rodefer (August 22)
Hungarian PEN awards Charles Bernstein the Janus Pannonius Grand Prize for Poetry
September   A poetry reading with three black men and one working-class man of unspecified ethnicity in an Ypsilanti house to celebrate one among them who has suffered from police harassment (September 11)
Tim Kreiner has written a considered response to my previous post, an act of intellectual dignity given what else is out there. His piece circles around a conflict between abstract rights (Free Speech) and concrete acts (antiracist politics) he says Place herself caused when she pushed inadmissible racial content into the public arena. He also sees her timing as crucial: while I imagined that Place was grabbing a part of the limelight from Kenneth Goldsmith's scandalous performance of Michael Brown's autopsy, he believes that she "added the images in the midst of a live social movement against specific acts of state violence targeting black people." [Correction: Place added the banner in 2012, and the profile photo in 2011; thus, both of our scenarios are incorrect. It is still an open question why a project that was not getting attention suddenly create intense outrage. The relation of image to text here is still crucial.] While we agree that adding the images converted a banal textual project into a racial provocation, he sees her opportunism as not simply in the aesthetic series but as an attack on the social movement, and thus criticizable from that perspective. Her cynical use of Free Speech, and by an extension the defense of her work in terms of it, cannot be dissociated from its effects on antiracist organizing and its larger concern, #blacklivesmatter.
A week ago, I returned from Germany to find the online poetry community in an uproar over Ron Silliman's "Je suis Vanessa Place." There, Silliman triangulates the Charlie Hebdo award controversy with the petition to remove Place from a steering committee at AWP, and her conceptual project to tweet Gone with the Wind in 140-character chunks over several years. Since then, a second letter campaign in part led to the devolution and canceling of the Berkeley Poetry Conference 2015 (BPC), a situation still unresolved.  Silliman sees the primary issue as freedom of expression in a climate of projective and even rhetorically violent debate. Unfortunately, whatever the merits of his position—which I agree with on many grounds—his own rhetorical strategy makes analogies and leaps that are at turns defensive and projective to the point of offense to most readers. … More