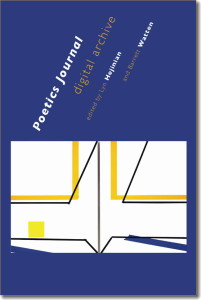 Wesleyan University Press
announces publication of
Poetics Journal Digital Archive
ed. Barrett Watten and Lyn Hejinian
A complete collection of key texts in the
development of contemporary poetics
---
Poetics Journal Digital Archive is a resource that re-publishes virtually all of the articles originally published in Poetics Journal, organized alphabetically by author and in searchable form. The archive features indexes by contributors, original publication volume, and keywords.
The archive was designed to be used with A Guide to Poetics Journal: Writing in the Expanded Field, 1982–98, an anthology that includes thirty-six articles selected from the run of the journal, organized in three chronological sections, along with comprehensive introductions by both editors, contextualizing headnotes, publication history, keywords, abstracts, and bibliographies for each article.
Together, the Guide and Archive comprise a print/digital publication that will make the best use of both media. Some of the essays published in the Guide are abridged versions of the originals, and readers will find the complete versions in the Archive. Nearly all the articles published over the life of Poetics Journal are included.
The writing that appeared in Poetics Journal reflects the development of a range of ongoing creative and critical approaches in avant-garde poetry and art. In making this content newly available, we hope to preserve the generative enthusiasm for innovative writing and art it represents, while encouraging new uses and contexts.
---