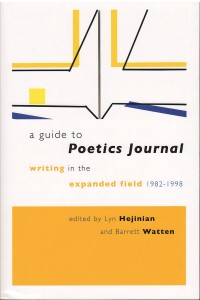 A Guide to Poetics Journal:
Writing in the Expanded Field,
1982–1998
Ed. Lyn Hejinian and Barrett Watten
Wesleyan University Press, 2013
A Guide to Poetics Journal, the print component of a hybrid publication project that will be completed with its digital half, Poetics Journal Digital Archive, in early 2014, is now available from Wesleyan University Press. The press has provided a link that you may use to receive a 30% discount: use promotion code W301 at the following site: here. For more information on this venture, see the publicity flyer linked here.
T

able of Contents
Lyn Hejinian and Barrett Watten
           Introduction            
           Part I: Numbers 1–4
Steve Benson
Close Readings: Leavings and Cleavings
Charles Bernstein
Writing and Method
Beverly Dahlen
Forbidden Knowledge
Alan Davies
Language/Mind/Writing