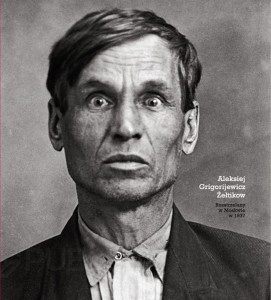 An annotated bibliography from travels to Lodz and Warsaw, April 2013, with apologies for the lack of Polish characters and diacritics.
Modern History
Czerwinska-Rydel, Anna. W poszukiwaniu swiatla: Opowiesc a Marii Sklodowskiej-Curie. Warsaw: Akademia rozwuju wyubrazni BUKA. CD. Radio play on the life of Marie Curie, read by Anna Dymna.
Frankowski, Artur. Typespotting: Warszawa. Warsaw: Bec Zmiana, 2010. A guide to Warsaw through street signage and ad typography.
Kisny, Tomasz. Wielki Terror, 1937-1938 [The Great Terror, 1937-1938]. Warsaw: Narodowe centrum kultury, 2013. Photodocumentary of victims of Stalinist purges and terror trials, with contemporary images of remembrance. [See image.]
Kusinski, Jacek, Ryszard Bonislawski, and Maciej Janik. Ksiega fabryk Lodz. Lodz: Wydawnictwo Jacek Kusinski, 2009. Catalogue of industrial buildings in Lodz, then and now.