Nowa poezja amerykanska (New American Poetry), special issue of Literatura na swiecie (Warsaw) no. 11–12 (2010). Featuring poetry translated into Polish by Lyn Hejinian, Tony Hoagland, Elizabeth Willis, Peter Gizzi, Lisa Jarnot, Harryette Mullen, Forrest Gander, Cole Swensen, Barrett Watten, John Yau, and David Schubert; with essays, reviews, and interviews; www.literaturanaswiecie.art.pl.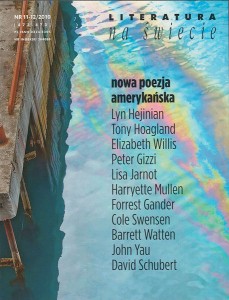 From the Polish translation of my serial poem "Frame" by Tadeusz Pióro:
Rama
I
Ogrodzenie z siatki wokól niezabudowanej dzialki pelnej smieci. Jakby bylo w nich ____ . . .
Promien slonca zalamany w pryzmacie na pokaz.
Dopóki jezyk jest tylko relacja—a nas mówu sen.
[diacritics t/k; further stanzas t/k]