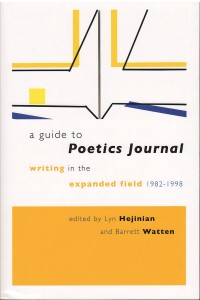 A Guide to Poetics Journal:
Writing in the Expanded Field,
1982–1998
Ed. Lyn Hejinian and Barrett Watten
Wesleyan University Press, 2013
A Guide to Poetics Journal, the print component of a hybrid publication project that will be completed with its digital half, Poetics Journal Digital Archive, in early 2014, is now available from Wesleyan University Press. The press has provided a link that you may use to receive a 30% discount: use promotion code W301 at the following site: here. For more information on this venture, see the publicity flyer linked here.
T

able of Contents
Lyn Hejinian and Barrett Watten
           Introduction            
           Part I: Numbers 1–4
Steve Benson
Close Readings: Leavings and Cleavings
Charles Bernstein
Writing and Method
Beverly Dahlen
Forbidden Knowledge
Alan Davies
Language/Mind/Writing
Robert Glück
His Heart Is a Lute Held Up: Poe & Bataille
Lyn Hejinian
The Rejection of Closure
Susan Howe
My Emily Dickinson
George Lakoff
Continuous Reframing
Jackson Mac Low
Some Ways Philosophy Has Helped to Shape My Work
Viktor Shklovsky
Plotless Literature: Vasily Rozanov
Ron Silliman
Migratory Meaning: The Parsimony Principle in the Poem
Barrett Watten
The Politics of Style
           Constellation I: Practices of Poetics
           Part II: Numbers 5–7
Kathy Acker
Ugly
Bruce Andrews
Total Equals What: Poetics and Praxis
Rae Armantrout
Mainstream Marginality
Michael Davidson
"Hey, Man, My Wave!": The Authority of Private Language
Johanna Drucker
Hypergraphy: A Note on Maurice Lemaître
Carla Harryman
Toy Boats
George Hartley
Jameson's Perelman: Reification and the Material Signifier
Bob Perelman
Good & Bad/Good & Evil: Pound, Celine, and Fascism
Poets Theater: Two Versions of Collateral
Kit Robinson: Raising Collateral
Nick Robinson: Subtext in Collateral
Leslie Scalapino
Pattern—and the 'Simulacral'
Peter Seaton
An Example from the Literature
Warren Sonbert
Narrative Concerns
           Constellation II: New Methods and Texts
           Part III: Numbers 8–10
Pierre Alferi
Seeking a Sentence
Dodie Bellamy
Can't We Just Call It Sex?
Arkadii Dragomoshchenko
I(s)
Jerry Estrin
Cold Heaven: The Uses of Monumentality
Harryette Mullen
Miscegenated Texts & Media Cyborgs:
Technologies of Body and Soul
Ted Pearson
A Form of Assumptions
Kit Robinson
Time & Materials: The Workplace, Dreams, and Writing
Andrew Ross
The Death of Lady Day
Lorenzo Thomas
The Marks Are Waiting
What/Person: From an Exchange
Leslie Scalapino and Ron Silliman
Reva Wolf
Thinking You Know
John Zorn
Memory and Immorality in Musical Composition
           Constellation III: The Expanded Field     
Keywords: Guide
Index: Poetics Journal 1–10
Index: Guide