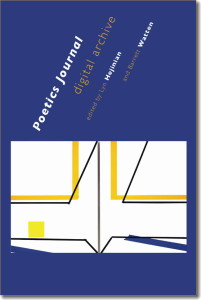 Wesleyan University Press
announces publication of
Poetics Journal Digital Archive
ed. Barrett Watten and Lyn Hejinian
A complete collection of key texts in the
development of contemporary poetics
---
Poetics Journal Digital Archive is a resource that re-publishes virtually all of the articles originally published in Poetics Journal, organized alphabetically by author and in searchable form. The archive features indexes by contributors, original publication volume, and keywords.
The archive was designed to be used with A Guide to Poetics Journal: Writing in the Expanded Field, 1982–98, an anthology that includes thirty-six articles selected from the run of the journal, organized in three chronological sections, along with comprehensive introductions by both editors, contextualizing headnotes, publication history, keywords, abstracts, and bibliographies for each article.
Together, the Guide and Archive comprise a print/digital publication that will make the best use of both media. Some of the essays published in the Guide are abridged versions of the originals, and readers will find the complete versions in the Archive. Nearly all the articles published over the life of Poetics Journal are included.
The writing that appeared in Poetics Journal reflects the development of a range of ongoing creative and critical approaches in avant-garde poetry and art. In making this content newly available, we hope to preserve the generative enthusiasm for innovative writing and art it represents, while encouraging new uses and contexts.
---
For more details, click http://www.upne.com/0819571236.html. Poetics Journal Digital Archive is only available as an ebook—check with your favorite ebook retailer.
For information on the Guide to Poetics Journal, an anthology of key texts in the journal, click http://www.upne.com/0819571205.html (available in print and as an ebook).
---
ORDERING DETAILS:
SAVE 30% on print editions when you order from the above web site and use discount code W301—use the "details" link above. Or order through your favorite bookseller, or by calling University Press of New England at 1-800-421-1561 (or 603-448-1533, x255 or x256). US Shipping charges are $5.00 for the first book and $1.25 for each additional. In CANADA, order through the University of British Columbia Press at (800) 565-9523 or email mailto:utpbooks@utpress.utoronto.ca. In EUROPE, order through Oxbow Books Ltd / Orca Book Services, telephone: +44 (0) 1235 465500 or email: tradeorders@orcabookservices.co.uk.
Academic users may order an Examination Copy for potential course adoption by clicking here, and then clicking the gray EXAM PRINT COPY button on the left side. For information about print and electronic review copies, click here—http://www.wesleyan.edu/wespress/for-educators/index.html.
---
[after email circulated by Wesleyan University Press, 215 Long Lane, Middletown, CT 06459, 15 January 2015]